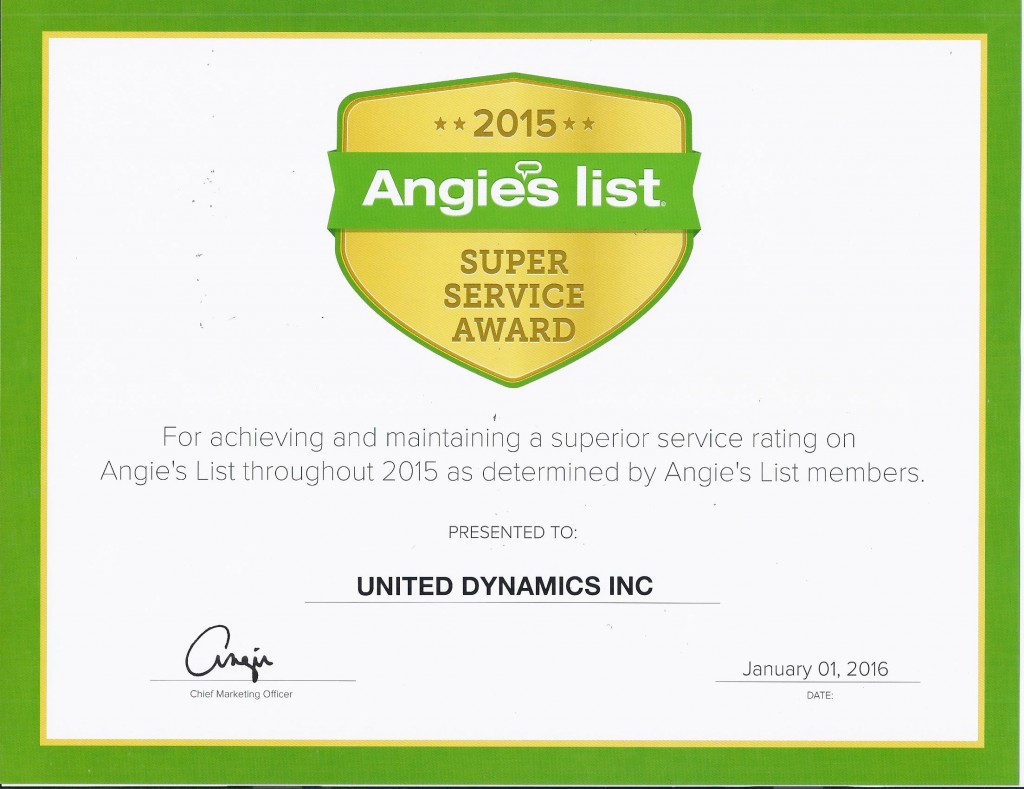 Getting recognized by our clients for excellent work is a regular occurrence and greatly appreciated. Being recognized by a group such as Angie's List is humbling … and also a regular occurrence! As you can see above, we received the Super Service Award in 2015 which is earned by only the top 5% in the industry. In fact, we have earned that designation in 4 out of the last 5 years! Here is a sampling of what our clients are saying about us in their reviews:
Dean in Louisville, KY
"From initial phone call contact to final completion of project, UDI was top notch. Our contact, Howard, was responsive, prompt and extremely thorough with the explanation of the project, what it would entail, and how long it would take. We had a mega-amount of questions and he fielded all of them in a most professional and courteous way.  His crew that did the work were awesome. They also answered any questions we had and if they couldn't we'd get a call back from Howard with answers. This job took them 5 full days and each day they left the basement so clean considering that they were jack hammering concrete and carrying out mud.  Its been almost a year since the job was completed and we still couldn't be happier with the work UDI did. We have not had one issue with water in our basement and we've been through some serious rain events in that time. A month after the system was installed we had 10″ of rain over 2-3 days and basement stayed dry."
John in Mooresville, IN
"We observed cracks in the brick growing larger on the exterior of our home. A mason recommended we have our house inspected for possible foundation settling. UDI was the third company to take a look. The first company stated there was no problem. The second company showed us that there was a problem and offered a quote. UDI confirmed that there was a problem and offered a solution very similar to the second company, although with some differences that ultimately led us to choose UDI.
First, UDI offered a total solution of not just stabilizing the house with push piers, but they would also repair the cracks in the brick via tuck-pointing; tuck-pointing was not included by the other company and we would have had to have paid a mason to do it (estimate of $800-1000).
Second, UDI had equipment to install piers from within our crawlspace; the other company did not and would have had to excavate large portions of our concrete front porch to install several piers, and we were concerned about the final appearance with mismatched concrete.
Third, UDI offered a significantly better price for the additional work of leveling our front sidewalk and part of our driveway which had also settled. And finally, UDI gave me more confidence that they would be very sensitive to minimizing damage around the house, with landscaping, utility lines, and irrigation lines immediately surrounding the areas they would have to dig; the other company simply said they couldn't rule out any damage and I would be responsible for repairing it.
The work was completed in four days which was consistent with UDI's estimate. The holes were all dug by hand (in February on near-freezing days!) and all the dirt was placed on tarps so that none of it spilled into the grass or landscaping areas. The piers were installed and the foundation was successfully lifted, with the cracks in the brick closing up. All of the dirt was replaced and the cracks in the mortar were tuck-pointed with a good match to existing mortar color. The landscaping and sod was put back so well that you can't even tell holes were ever dug. They were able to level the front sidewalk very well with a poly foam method, raising it 2-3 inches and eliminating a trip hazard. The driveway is much better than it was – they used a combination of pressure grout and poly foam – but due to the complex way it had cracked and settled, they couldn't quite get it back to perfectly level (and they had warned us in advance that a perfect result may not be achievable).
All of the UDI people were very friendly and professional. Dave Camm made several visits to our house to answer questions and show us the hardware and tools they would use, and he stopped by during the job to make sure it was going smoothly. I am an engineer, and Dave was so patient with all of my questions – we traded phone calls and emails to make sure I was satisfied with the answers. Ashley was responsible for scheduling the job, and he kept in touch when icy weather caused a one-day delay to the start of the job. Fernando and his crew were extremely hard workers. I have never seen anyone hand dig large holes so quickly! They took great pride in their work and kept me informed of their progress. Their attention to detail during the job was obvious – they even picked up all the utility marker flags from the lawn at the end of the job. We are grateful for finding UDI on Angie's List because we felt we needed to get a third opinion for such a large and critical job. We are very pleased with the quality of the people and the work that was performed."
Doug in Mitchell, IN
"It could not have been better. On every part of the process, from start to finish, you could not get any better. From my first contact with Ashlea in their office, to Jeff looking at my problem and giving an estimate, to the crew of Tirso, Robert, Idelfonso, Jairo, and Tray fixing my house, you could not get any better. I have had good contractors, and some not so good, but United Dynamics are in a league of their own. Excellence!!!"
We are hard at work every day to earn the 2016 Super Service Award! If you have foundation repair or waterproofing needs, give us a call at 812-282-2222 or 800-359-4471 and receive super service!