Another post from the leader in foundation repair and waterproofing serving the Louisville, Indianapolis, Evansville, Jasper, Bloomington, Owensboro, Elizabethtown and Bowling Green areas including a city near you!
We provide Customer Quality Audits to every client of ours after our repairs have been completed as a means to receive valuable feedback on our efforts.  Each one is seen by everyone in the leadership team including the Owner, President, Sales Representative and Project Manager.  Over the years, these audits have been an enormously valuable tool in shaping how we do what we do and how we communicate it.  Our clients will check several "Yes/No" questions and have the opportunity to tell us anything they like on a series of blank lines at the bottom.  We even post the more noteworthy ones on our Facebook page under the heading of "Excellent Audits of the Week".
This next Excellent Audit of the Week may actually be the Excellent Audit of the Year! Robert of Bardstown asked us to stabilize his foundation as so many others have during this drought year. His appreciation, as expressed in the letter shown below, was humbling. We saved it for this day after the Thanksgiving weekend because it meant so much to us.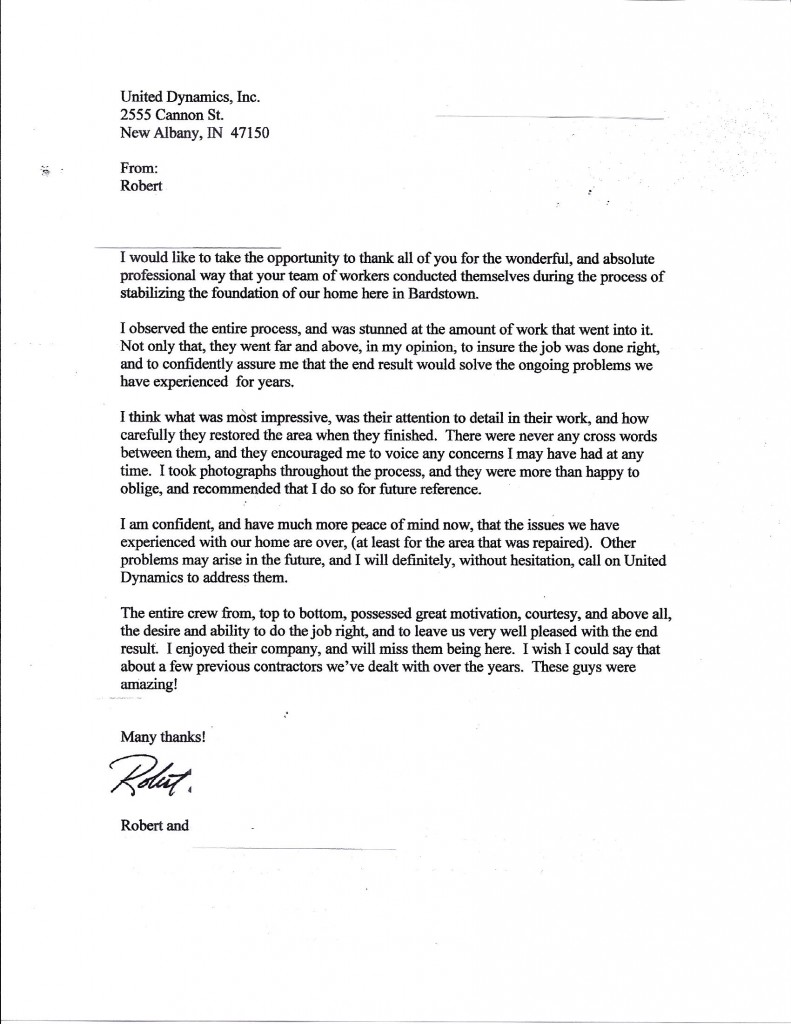 Robert's words remind us how grateful we are for all of our clients. If we raised your foundation, realigned your basement wall, waterproofed your basement, or did any of the other many types of repairs we do every day, we want to express our thanks to you for placing your trust in us. As we gather with our families and friends this holiday season, it is our prayer that you will be blessed, your homes will be safe and secure, and your families will experience a joyful time together!
Thank you!
Your friends at UDI